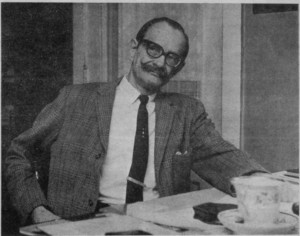 Robert G. Peck, Jr. — my other 'first' collaborator. I would never have accomplished the things I have accomplished without the influence of this man in my life. I know of many others who give him equal credit in their lives.
This little article is from the Chicago Tribune's Memorial Service notice about his death in 1986.  "A memorial service for Robert G. Peck Jr., 78, a retired advertising executive, will be held at 11 a.m. Saturday in Grace Episcopal Church, 120 E. First St., Hinsdale. Mr. Peck, of Hinsdale, died Wednesday in Hinsdale Hospital. He retired in 1968 from Armstrong Advertising, where he had been an account executive and vice president for 20 years. Mr. Peck, who also was a freelance writer, was a contributor and substitute columnist for 15 years for The Tribune`s "Rimes and Remnants" column and several years for the newspaper`s "Line O`Type or Two" column. He wrote many reviews for The Tribune`s Sunday Book Magazine. He was active in numerous Hinsdale
organizations. Survivors include two sons, Robert and William; and six grandchildren."
It did not mention any of the other things he did. Among many other hobbies and interests, he directed for Brush Hill Music Theatre and The Hinsdale Village Players. Because of this  my mother, (she knew him), encouraged me to go and seek his help and advice when Leslie Lillis and I wanted to start The Plank Road Players, an amateur Youth Theatre Group. He came on board and became a champion of us youth. He was incredible. So full,  a vast storehouse, of wisdom and knowledge.
Entering his home was an adventure in following a trail. He must have learned under the hands of Sir Baden Powell himself. Mr. Peck was a collector of books (thousands of children's books, books on jazz music, humor and Science Fiction) , music and recordings (1700 jazz titles).  And you could follow the trail through his front room and often have to move stacks of books just to sit down. But not one of us minded, because he had read every single one of them. It showed in every word he spoke; always perfectly phrased and right to the point.
He was a ten year veteran of Little League in Hinsdale. He is a published poet. After his retirement from Armstrong, he took a part time job at Kroch's and Brentano's , an independent bookstore in Oakbrook, where his vast knowledge of literature helped the customers there. Later, he opened his own used bookstore, at age 70, to help clean out the titles in his house.
He was a brilliant 'people-person.' He was a great friend. He was an inspiring collaborator and director. He was awesome.
Musical Authored together:
Part of a Blog from our Plank Road Players Facebook site:
If you worked with PRP, join us! [http://www.facebook.com/?ref=tn_tnmn#!/groups/177184295633920/]
Leslie Piazza    
I still think about him and what a great man he was. He touched many many lives. He sure did mine.
Michael Perry    
No one who ever met him came away unchanged. He had an effect on you — it told you you could do what you thought you couldn't — look at what we wrote [and accomplished] under his influence!
Alison C. Vesely    
I SO agree – I still think of him too. Amazing man, and such a great influence!
Henry Doering    
I remember Mr. Peck so well. He was a really excellent director and a fascinating person. He and his wife went to our church, so I knew him in that context as well as theater. I assume he has left this world, but the impression he made upon me and other theater kids lasts a lifetime.
William Beyer
I have his portrait on my wall, and whenever I need encouragement I look at it, and the encouragement comes. God bless Mr. Peck.