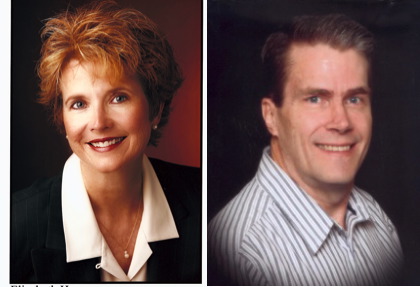 Elizabeth Hansen is a Writers Guild Award winner and an EMMY-nominated screenwriter and consultant who has had a varied writing, directing, and acting career, that has taken her from the bright lights of Broadway working with the likes of Tommy Tune and Harold Prince, to the newsrooms of the Los Angeles Times where she had her own "Byline," to the classrooms of Brigham Young University where she taught screenwriting and playwriting from 1994-2000 as well as helped focus their Screenwriting Program. After graduating with honors from the University of Utah, Ms. Hansen journeyed to Los Angeles to study musical theatre performance at the highly regarded Los Angeles Civic Light Opera Musical Theatre Workshop as well as acting technique with Charles Nelson-Reilly. From Los Angeles she moved to New York where she studied with the famed acting teacher Uta Hagen. Over the next few years she was seen on Broadway in A Day In Hollywood/A Night In The Ukraine and Do Black Patent Leather Shoes Really Reflect Up.  In her acting career she has starred opposite Milton Berle in Guys and Dolls, James Mason in A Partridge in a Pear Tree, Carol Channing in Hello, Dolly!, and Rudolf Nureyev in The King and I, as well as numerous musicals Off-Broadway and in regional theatre.
In the late 80s, Ms. Hansen decided to focus on her writing and was accepted into the prestigious American Film Institute Center for Advanced Film and Television studies, one of the top five film programs in the U.S., where she received an MFA in screenwriting. Since then, she has written for nearly every film and video venue in the business:  feature film, short film, television (long and short form), corporate video, documentary, as well a s musicals and straight plays for the legitimate theatre. She has spent numerous years as a script consultant, first with the Pasadena Playhouse, where she reviewed new and established scripts which were under consideration, as well as with Entertainment Business Group, an entertainment consulting company where she worked on "Campaign Breakdowns" and "Comparative Picture Analyses" Also a film and stage director, she has directed a handful of short films and just completed directing Big River: The Adventures of Huckleberry Finn for Sundance Summer Theatre. In addition to her Writer's Guild Award and her Emmy nomination, Ms. Hansen was a finalist for the esteemed Humanitas Prize for excellence in children's television programing, a Telly Award for her work with the Foundation for a Better Life and has been awarded two Crystal Awards for excellence in corporate video writing as well as numerous screenwriting competitions.
C. Michael Perry — was born in Colorado and raised in Chicago. He found the theatre in High School and has made a living in Theatre, Film and Television since then. He has worked on over 25 major network television shows and some 300 commercials along with two feature films. He has performed in front of over 2000 live audiences from Utah to Italy in various plays and musicals. He has received acting awards for his many leading and supporting roles. He has directed over 40 shows on the Community, Educational and Professional level. He has choreographed over 50 productions. He has won awards for lighting and scenic designs in community theatre and continues to design shows at  the high school level. He is a graduate of Brigham Young University with a BA in Theatre. He is the composer of over thirty musicals including "CINDERABBIT" for PBS, which won an Emmy Award and a "Best Of The West" Public Television award.  He is also a playwright and lyricist for over 20 plays and award winning  musicals that have been produced across the nation, many of which are  published. Other works composed include, ENTERTAINING MARK TWAIN, FAUNTLEROY!, KEWPIE!, THE APPLE KINGDOM, OF BABYLON, TURN THE GAS BACK ON!, CURSES, FOILED AGAIN!, JEDEDIAH!, TOM SAWYER, ONSTAGE!, A CHRISTMAS MEMORY, CHRISTMAS DREAMS,  LIBERTY JAIL!, and THE MIRACLE OF MIRADOR, THE SCARLET PIMPERNEL,  FAUNTLEROY, ANNE with an 'e' – THE GREEN GABLES MUSICAL, ROSE: The Kewpie Lady, GREAT EXPECTATIONS, SUCH STUFF AS DREAMS, ENCHANTED APRIL, DIVERTIMENTO, THE TYMES OF ALL ETERNITY, THEY CALLED HIM BROTHER JOSEPH, HOW THE WEST WAS DONE, HEIDI, LITTLE PRINCESS, and JONAH. His new Fantasy-Adventure novels, THE MIRACLE OF MIRADOR, THE BLOOD ROSE OF PANADOR, the first and second of a 15 part novel series, are available at Amazon and on the Leicester Bay Books site, along with the first novel in his Wembley Tewkes trilogy: IMPERFECTIONS ON THE EDGE, and a stand-alone detective mystery, SINS OF THE SONS: FLASHES AND SHADOWS. He is the former President of Encore Performance Publishing, a publisher of plays and musicals for amateur and professional markets now owned by Eldridge Plays and Musicals.  He makes his home in Newport, Maine with his wife Sharon.  His daughters Jessica, Janalynn and Joelle and son Jon-Christopher are all out on their own.